It's definitely feeling and looking like summer here in Florida! The amaryllis flowers are blooming around the front yard. Aren't they pretty?!
Our gardenias are blooming and the aroma is so lovely as you're walking in the house.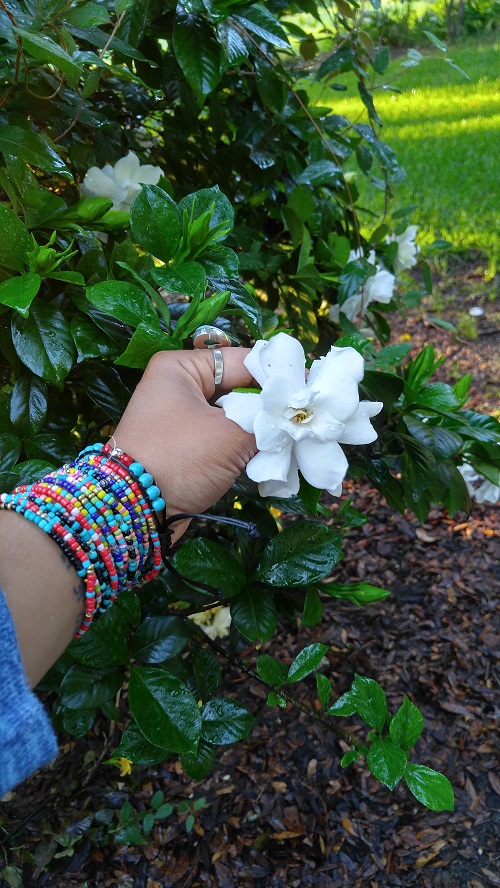 And now… some big news! Baby Cutes, our mini nubian (Nubian/Nigerian Dwarf cross) is pregnant! The vet came with her ultrasound machine and the kids and I saw not one, but two babies on the screen! I wish I had taken some pictures of it all but I was the one in charge of holding the goat steady so the vet could do the ultrasound. But we are super excited and we are all crossing our fingers and hoping for healthy twin kids later this summer. I will keep you posted!
In homeschool/ unschooling news Allie decided she wanted to make her first Barbie doll dress.  She chose four charm squares from a pack she had been playing with and found a strip of ribbon in her room and voila! In less than 30 minutes she whipped up a super cute reversible midi dress for her Barbie doll. It was definitely a close call trying to get it over her hips and shoulders with no closure but we made it work. She is so good at sewing on a machine that it blows my mind! You can watch a video of her skills here. 
 I had to videotape her during this sewing session because her confidence was just too much!  It's so cute to hear her with her little baby voice teach you how to sew. She does share some great pointers for any sewing beginners:
• Stop sewing when you reach a pin.
• Do a great job so you don't mess up and have to start over.
• and "please cut carefully or you will cut yourself."
I'm so proud of her! She did a fab job on her Barbie dress and what a joy it is to sew with my kids! I love that they enjoy creating too!
Check out the video of Allie sewing and giving beginner sewing lessons in my Facebook Post.
That about sums up what's been going on the farm and with the kids this week. To stay up on all our happenings be sure to subscribe to my email newsletter right HERE. 
{P.S.- If you'd like to teach a child to sew watch this video where I share my tips.}