Just in time for this Memorial Day weekend I'm releasing a new quilting video tutorial for this Stars of Valor quilt.  The quilt was designed by Patti Carey for Northcott Fabrics and I got to make one while filming this step-by-step video tutorial for you!  The pattern for the quilt is FREE and is provided to you by Northcott Fabrics.
Details on the fabric collection used are included in the video tutorial and you can purchase the Stars & Stripes 2.5″ strip set from your local quilt shop or here online.  You'll also need some minimal additional yardage and all that info is in the free downloadable pattern. 
This video tutorial is great for quilting newbies too. It will show you exactly what it takes to make a quilt top like this from beginning to end.  The pattern states the skill level needed to complete this project is "Advanced Beginner." If you need to practice working on those 1/4″ seam allowances you will get plenty of practice making this quilt top.
CLICK HERE TO WATCH THE VIDEO TUTORIAL FOR THIS STARS OF VALOR QUILT.
NOW FOR THE FABRIC GIVEAWAY!
Thanks to our friends at Northcott Fabrics I am also giving away a complete fabric kit with the fabrics you need to make this quilt top (backing fabric not included). To learn exactly what you'll get if you win be sure to watch the video.
If you follow me on Facebook and/or Instagram you probably followed along while I posted pics of my progress on this quilt top.  Many of you have been waiting for the finished tutorial and here it is! It took a lot of late night/early morning hours to complete but it was so worth it. I hope you'll consider making one for yourself, a loved one or donating it to Quilts of Valor (QOV).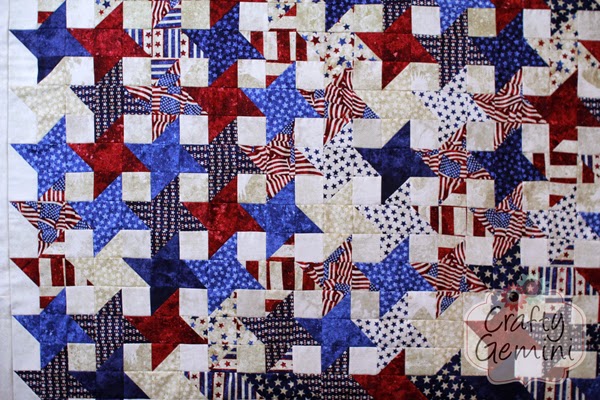 Close up shot of the interlocking friendship star blocks in the Quilt of Valor quilt top.
Stars of Valor quilt top made by me.
525 two and a half inch squares pieced together and the intersecting seams from the back.
To enter the giveaway please check out the Rafflecopter widget below for details on how you can enter. This giveaway is open to U.S. followers. (Sorry, international friends!)