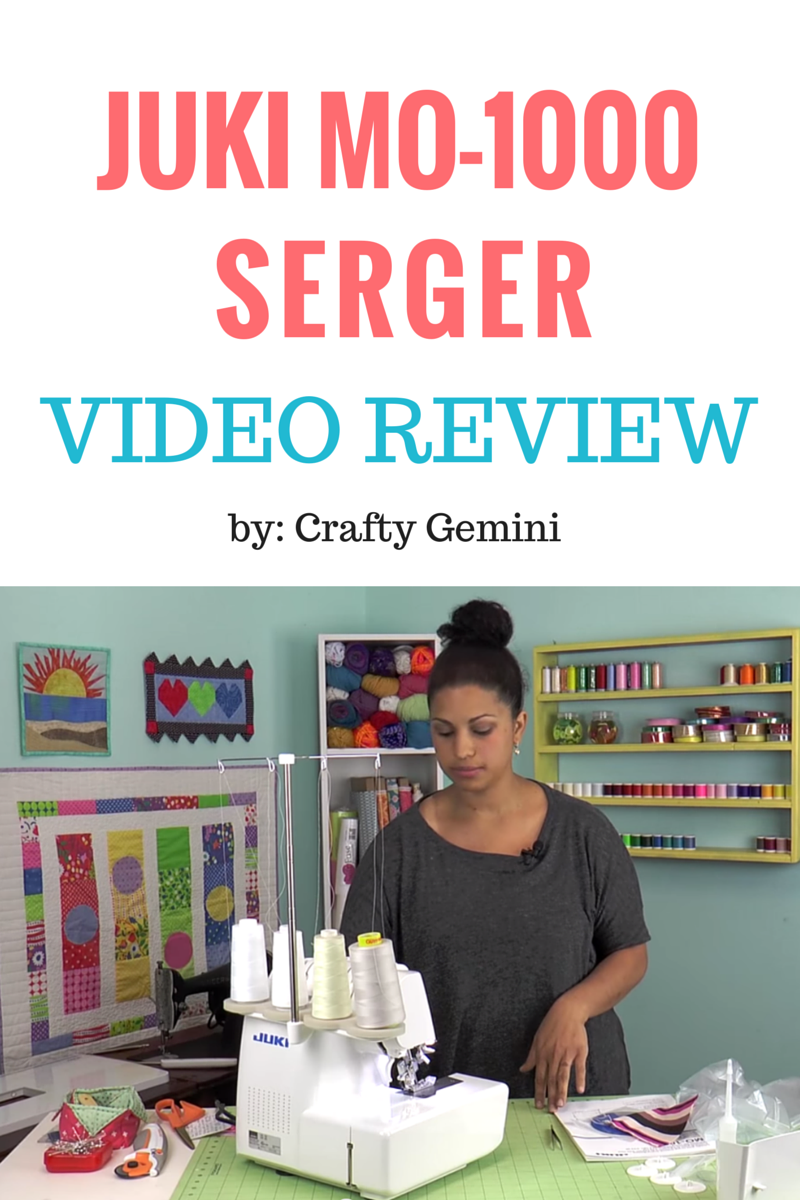 Disclaimer: All the opinions in this post and video review are my own. I was NOT hired by JUKI to post this review.  I bought this machine with my own money. 

To hear the story of how I got into buying JUKI sewing machines and sergers read this post.
A few months ago I drove two hours to Sew-Mini Things in Mt. Dora, FL to learn more about JUKI sewing machines. I ended up walking out with three different machines! Timm, the owner of the shop, answered all my questions on sewing machines and then proceeded to show me the sergers with Easy Threader technology. I had heard of the Baby Lock sergers that have the air threading technology so you can imagine my excitement when he told me JUKI has an MO-1000 serger that uses air to thread the upper and lower loopers too! BONUS: The JUKI MO-1000 is more affordable than then Baby Lock version. I had to try it out!
As soon as I saw how easy it was to thread I was sold. I didn't need a new serger (I have two 15+ yr old sergers!) but my husband said I could buy whatever I wanted. So, I figured I would sell my older sergers and a few sewing machines to re-coup the money I was spending on these three new JUKI machines! And they are business expenses, right?! So, yea. I bought it.
I knew I had to bring you a video review of this amazing serger so you can see it for yourself. If you have a serger that is a nightmare to thread I say, save yourself the headaches! Sell the one you have (and maybe some other stuff you're not using!) and get this JUKI MO-1000. Air threading technology AND automatic needle threaders for both needles = time saving must-haves that make serging a dream! Watch the video review to see the stitch quality. I was quite impressed at how well it serged on a variety of fabrics without me having to adjust any settings.
If you are in the market for a new sewing machine or serger I highly recommend Sew-Mini Things in Mt. Dora, FL.  My experience at the shop was great. They pride themselves on customer service and their knowledge of machines is amazing! Timm sells several different sewing machine brands including JUKI, Baby Lock, Elna, Singer, etc. Timm also offers FREE shipping on JUKI machines in the 48 contiguous states.  So, if you are looking to get a new machine hit him up.  Tell him you saw the JUKI MO-1000 serger review on the Crafty Gemini blog!
Now that I have a serger that threads itself I am using it more often. So, for you that translates into more free serger tutorials coming soon!
Now I leave you with the full video review of my brand new JUKI MO-1000 serger. Enjoy!