It's been a while since I posted a video tutorial on my
YouTube channel.
… Sorry!!
I've been busy teaching four law classes per semester and keeping an eye on our walking running 11 month old baby boy all day!  Oh, yea… did I mention I teach sewing & quilting classes locally and provide professional longarm quilting services?, too!
phew… I'm a busy mama.
but… I'm back!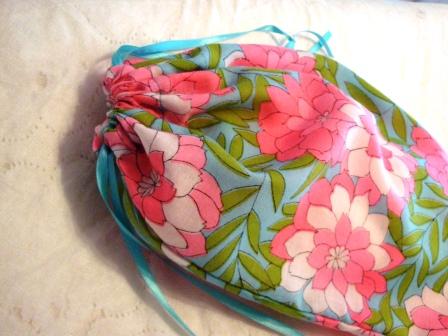 I've just posted my latest
FREE video tutorial
!
This is a very
simple drawstring bag tutorial
.  All you need is a sewing machine, fabric, thread, and some ribbon. I know a lot of my followers and
YouTube channel
subscribers are beginners in the world of sewing and quilting so I wanted to make a tutorial for a project that is:
1) easy to make (even for a clueless beginner),
2) completely functional, and
3) has hundreds of uses!
If you've recently picked up sewing try your hand at this super quick and foolproof project!  Even if your cutting and stitching  aren't exact, the bag will still turn out!
Don't be afraid… you can do it!
Some examples of what you can use these bags for are:
-bread bags
-for lingerie/underwear
-to keep dirty clothes separate from clean clothes when traveling
-kids toys for car rides
-can be lined with vinyl and made into a wetbag
– carry utensils and plastic cups for a picnic
-reusable lunch bags
-gift bags
If you need some help choosing fabrics to use for this project, have a look
HERE
.
Happy Sewing!